DIAGO QUEROL PHOTO: "DIAGO QUEROL PAINTING LUCIA BALLARIN'S PORTRAIT."
In 2020, the centenary of his birth, an ignominious question mark continues to loom over Roberto Diago Querol's archived case. Only further study can transform it into an exclamation point.
Jorge Rigol regrets - among other casualties - the case of the lost altarpiece of the Major Parish of San Cristóbal de la Habana, made by one a certain Juan Camargo, in the last years of the 16th century. Both Bishop Espada and time have been condemned for the fact that much of our colonial painting is just an obscure haze in the Chapter Acts and in the Indices and Extracts from the General Protocols Archive of La Habana. However, the work of Juan Roberto Diago Querol (Habana, 1920 - Madrid, 1955) is nearly as unknown as Camargo's. In the absence of reforming bishops and interceding centuries, who is to blame for his prolonged invisibility?
Diago has been one of the most prominent recurrent myths in the history of modern Cuban painting. His fleeting life and the powerful originality of his work opened an inquiry that has long been the subject of, praiseworthy, guesswork. Two circumstances make the extended duration of this question even more absurd and unjustified: his oeuvre spanned only fifteen years - approximately from 1941 to 1955 - and the vast majority of his work still resides in state collections. (This situation has changed. Many of his works are currently housed in private collections outside of Cuba, or in commercial galleries and auction houses in Miami or New York. His work was dispersed and has been under-studied). The location, distribution and study of his pieces makes it impossible to either clarify or to further obscure the either justified or unfounded conclusions that make Diago one of our most important painters. On the other hand, it is only possible to ponder on useless guesswork based on imprecise oral traditions or aged journalistic chronicles, often riddled with inaccuracies or exaggerations.
However, perhaps it is worthwhile to try and break down some of these conjectures in order to prove - as much as it is possible - a few arguments of their veracity or lack thereof. Consider that this attempt is inevitably affected by the provisional and incomplete character imposed by the scarce visible work of Roberto Diago and the limited information currently available regarding his life and work. [1]
The most common and unproven of these hypotheses about Diago, which has become a commonplace opinion among critics, is the one that positions him - alongside Wilfredo Lam - alongside the Cuban artists who have best expressed the influence of Africa in our arts. This view is truthful to a certain extent but tends to be overstated. The generalization implicit in this judgement emphasizes an element whose presence we cannot find in all of his artworks, much less in a progressive linear manner. In thematic order - often the most useful framework, since it allows for the immediate identification of Afro-Cuban motifs and symbols - the so-called "black" in Diago is limited to a short period that ranges roughly from 1945 to 1949. This period - irregular and experimental, like the rest of Diago's artistic career - has been artificially extended to occupy his entire oeuvre, which has contributed to attributing his commendable but ghostlike celebrity to what can be considered, doubtlessly, just a segment of his career.
Regardless of whether he exemplifies those contributions to the iconography of "blackness" or not, which we will try to elaborate on later, Diago's painting must be patiently studied from other perspectives that do consider his thousands of other interesting facets. Are we not predisposed by "racial" particularities because of the colour of the artist's skin? Hasn't music, musicality, a theme and an influence on the structural conception of his work, been another of Diago's most persistent aspects? Wasn't abstraction his ultimate stylistic visual language of choice? These are things that should be questioned by those who, with justified enthusiasm for the painter's expertise and motivated by his necessary rediscovery, have wielded his "plastic Afro-Cuban-ness'' as his sole defence. His themes could reach a much broader range further beyond the limits that have been imposed, if we manage to modify, or at least dislodge, this one-sided point of view.
Before reviewing the short period of five years that ranged from 1945 to 1949, in which Afro-Cuban themes become more visible in Diago Querol's work, it is worth mentioning a quote by the art critic Gerardo Mosquera: "when Africa is pushed to the surface level, it is often when it is least profound." [2] Hence, any thematic verification possesses only a relative and provisional value, subject to other complex and unnoticed features.
In 1945 and 1946, Roberto Diago Querol painted and drew a group of Cabezas, Rostros y Figuras (Heads, Faces and Figures) which he presented in group exhibitions throughout Mexico, Argentina and Cuba, between June and October 1946, and later in the United States and Haiti, between 1946 and 1947. The pieces portray the faces, heads and silhouettes of black and mulatto characters with protruding cheeks and bulging foreheads, possessing a grotesque and terrible appearance, like a figure with a blackish and brown torso, currently in the collection of the Cernuda Art Gallery, in Miami (see image no. 1).
The critics of the time praised the artwork, although they pointed out some of its Picasso-like debts and some - respectful - proximities to the masters of the patio: "We are, after Lam's masterful visual art pieces, in the presence of a new and unique work, strange at the first glance. [...] Domestic monsters whose image in our popular myths falls into the category of advisory geniuses. Affable and grotesque beings of the phallic ceremony, wrapped in an ambiance of fresh paganism." [3] In El Nacional de México, Loló de la Torriente refers to these Rostros as "black paintings made by black people," and emphasizes that Diago "will undoubtedly become one Cuba's most interesting and prolific painters of the time." [4]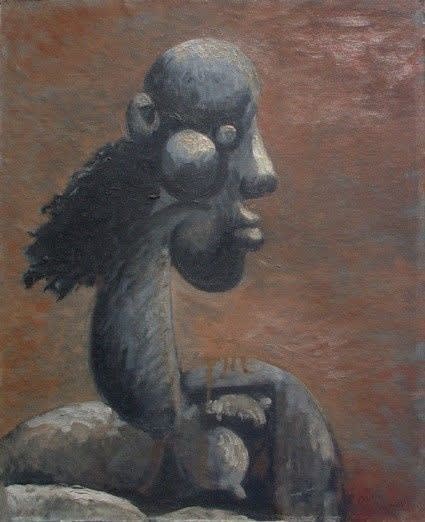 IMAGE NO. 1: "Mujer", 1945, oil on wood, 58 x 47 cm, Cernuda Art Gallery Collection, Miami
As a commercial round-off, one of these Cabezas was bought by Alfred H. Barr Jr. for the Latin-American collection of the Museum of Modern Art in New York. [5] Maternidad, currently in the collection of the National Museum of Fine Arts of Habana, [6] seems to be from this time period (1945 - 1946) and it is currently the only artwork of this important series on display; it seems to be the piece that best exemplifies these elements.
A small and attractive Cabeza (see image no. 2), probably from these same years, drawn on reddish-ochre ink, was acquired by the collector Chris von Christierson to be included in his contemporary Afro-Cuban art collection. [7] Despite its small size (20.3 x 12.7 cm), the drawing is not lacking in grandeur and visual impact. The head, a few centimetres long, has a strange appearance, with the upper temple virtually separated from the lower jaw, the ears also set widely apart, and a pair of loose and small closely-knit eyes, holding a stinging gaze. I have seen in Afro-Cuban religious settings old portrayals of Elegguá, and also of Osain and other orichás, with this broken-down countenance, often threatening, which perhaps aims to be intimidating or to express strength, energy, or courage - qualities that convey these figures' ability to solve problems and neutralize enemies. Curiously, I have also seen something similar in some of the intaglio prints by the artist Rafael Queneditt Morales (Habana, 1942 - 2016), the founder of Grupo Antillano [8]; I am referring precisely to the metaphorical representations of the orichás, created in the seventies, when the explicit mention of religious figures and holy sites made, due to a particular positivist and atheistic philosophy that prevails in socialist societies, a serious ideological paradox. These distorted, mildly terrifying expressions are also found in the work created in the 1950s and the 1960s by another member of Grupo Antillano, the painter Manuel Couceiro Prado (Habana 1923 - 1981). And, of course, these expressions are mainly influenced by the many strange aworanes or agboranes (carved wood figurines) which are abundant in the Yoruba cult of Ifá. There is a marked similarity, for example, between the small head drawn by Diago Querol and the carved figurine representing the orichá Osain (see image no. 3) that belonged to the late babalawo Orestes Irene Ansa, possibly made in the 1970s by Cosme Guío, a renowned artist of Ifá habanero.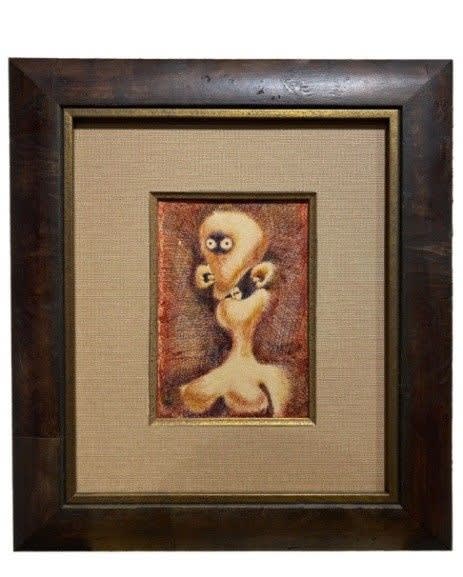 IMAGE NO. 2: "Cabeza", 1945, ink on paper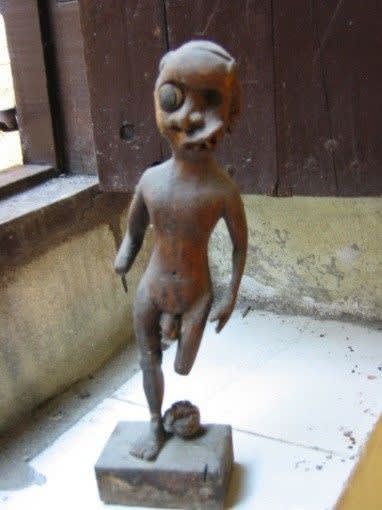 IMAGE NO. 3: An Osain sculpture by Cosme Guio
Works like these were, for critics of that time, Roberto Diago Querol's first authentic artistic expression, which until then had been branded by the influence of Van Gogh, Matisse, and especially Picasso (with some references to Mariano Rodríguez and Mario Carreño), and they managed to rescue him with relative haste from his initial academic standstill. [9]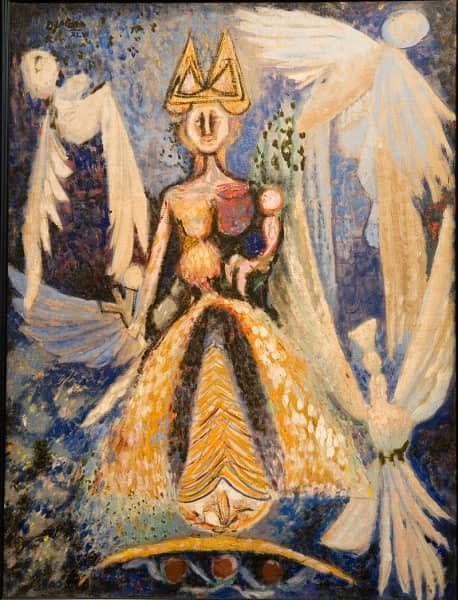 IMAGE NO. 4: "Caridad del Cobre", 1946
Another one of the widely discussed artworks of this so-called "black period" or of Afro-Cuban themes, and which is frequently offered as an undisputed paradigm, is the impressive oil painting Caridad del Cobre, dated 1946. [10] The patron saint of Cuba, the beloved Oshún or Cachita, as many worshippers of the Rule of Ocha or Santería affectionately call her, is represented in Diago's painting with a simplicity and familiarity found in the cloth or wood dolls that are commonly revered on home altars. She looks like a toy dressed-up as a saint rather than a venerable religious image. The importance here is not its thematic implications, it is the naive, ornamental and festive atmosphere that engulfs and magnifies this mulatto Virgin, and it is here where the substrate of Cuban conscience or ento-psychology (which no longer needs any afro- prefix) that informs our most authentic cultural creations, is best conveyed. With Caridad de Cobre - which is in many ways comparable to the depictions painted by Carlos Enríquez or René Portocarrero - [11] Roberto Diago achieves one of the most notable works of his entire career; a piece that exhibits strong sense syncretism and expressive richness. An alternate work, made in ink and equally praiseworthy, is the one that illustrates the ninth cover of Origenes magazine, in Spring of 1946 (see image no. 5).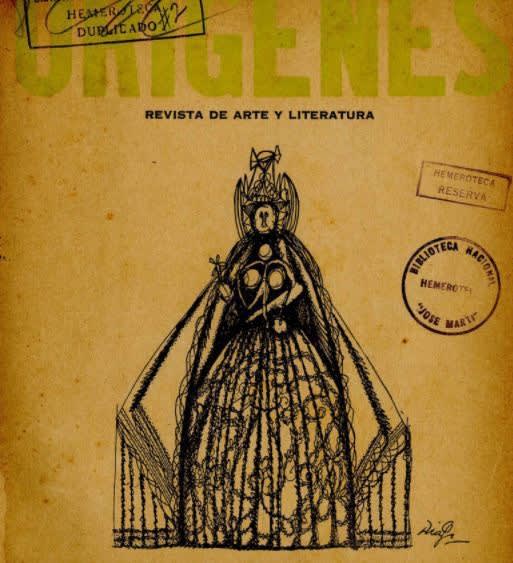 IMAGE NO. 5: "Caridad de Cobre" on the cover of Origenes magazine
With the absence of the colours found in the original painting (blues, golds, whites), which are more commonly found in Yoruba chromatic symbolism as opposed to the distinctive features of Marian costume, Origenes's humble drawing possesses the strong monumental charm of a great artwork.
His emotional and psychological schema, of obscure folk religion, is the same that is sensed in the development of his canvas works. In works both large and small, Diago shows formal confidence and creative genius. I have seen small illustrations by Diago that convey that same intensity, like the small head I previously mentioned. The dichotomy between the illustrator and the painter, a distinction which later presides over many evaluative judgements on his work, is, in the face of the quality of these Virgins, false or at least unnecessary and practically unjustified.
The virtuosity present in a group of inks from 1947 [12] might explain the cause of this distinction that made Diago the "illustrator" a poor substitute for Diago the "painter." But it is worthwhile to take a quick look at the extraordinary Abanico (Fan), from 1945, [13] to forget as soon as possible this absurd dichotomy that is strangely reminiscent of Doctor Jekyll and Mister Hyde. Both aptitudes - painting and drawing - can be easily demonstrated by mentioning examples from different periods. As a painter or as an illustrator, Diago was from almost the beginning a matured artist and an excellent practitioner of his craft. Exceptionally informed in the "kitchen" secrets of the line, of colour, of composition, or of graphic techniques that were seldom practiced in Cuba at the time, such as woodcut, [14] he could express - visually and verbally - erudite wisdom. His multifaceted interest in knowledge encompassed studies of history, art, literature, religion, and especially of music, for which he had an acute natural affinity. [15]
Despite having these knowledge and skills, Diago as a painter was never able to achieve a fully developed stylistic resolution. He was called the epithets of "promising", "full of potential" and "undefined" until his premature death, and they have defined his entire career. It could not have been another way. His inquisitiveness will keep him in constant - and now eternal - creative suspense.
I would like to point out some contradictions or perhaps it would be better to say complexities about the previously mentioned 1947 drawings, made in black and coloured inks, which characterize the format of these thematic and stylistic inquiries and explorations about Roberto Diago Querol. In this compendium, inaugurated in 1948 by José Lezama Lima, [16] there is a wide scope of interests that ranges from Cuban popular cults (Caridad del Cobre), Christian mythology (San Sebastián, Anunciación, Apocalipsis), Greek-Latin (Leda), Egyptian (Isis), to works of subjective nature (Músicos, La música, Instrumentos musicales), intertwined with lineal, ascetic and classical homogeneous concepts, packed with Renaissance and surrealist overtones that somewhat resemble the drawings about Antillean mythology made by Luis Martínez Pedro shortly before. These thematic preferences that he gradually augments with Picasso-like cubist imagery (Músicos [Musicians], ca. 1947) [17] [18], characterize the period 1945 - 1949 as simultaneously fretful and divergent, and not exclusively focused on Afro-Cuban themes.
A gouache drawing also from 1947, which belongs to the collection of the Cernuda Art gallery (see image no. 6), has a more diagrammatic appearance, with arrows and plumes decorating the head, and it can be attributed to his regard for the Afro-Cuban essence, and it would even classify as one of the future Cabezas de Elegguá (Heads of Elegguá) that he would create in 1949, although we don't know if he started them before this date. But, as we already know, when it comes to dates with this artist, his thematic and stylistic elements are always approximations.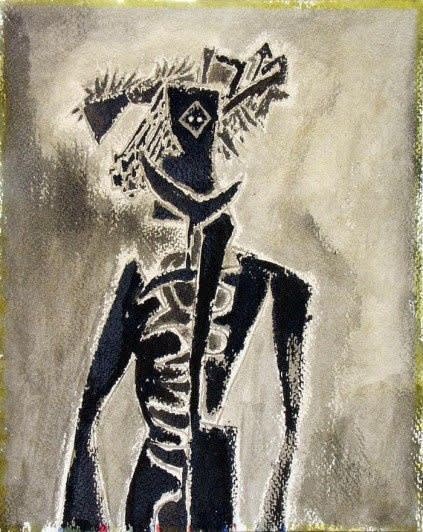 IMAGE NO. 6: "Figura africana", 1947, gouache on paper
Despite it being the time period in which he presents the most Afro-Cuban ingredients, or the greater number of elements distinctive to one of our national identity's most significant genetic pools, one still cannot find - nor will never find - any defined angle that corroborates a resemblance to Lam. This parallel, which should very well be interpreted as a kind of eulogy or praise, often takes the malefic sheen of a rivalry, unjustified for many reasons. It is enough to mention that, during these years, Wilfredo Lam was already considered one of the great contemporary painters [19] and already possessed a mature and unmistakable style. It would be more sensible to register the interesting results achieved by Diago Querol between 1945 and 1949 - with some exceptions - among the works produced by painters like Portocarrero, Martínez Pedro, Mariano, Carreño, among others, throughout the whole decade, who found, in the visual representation of the characters, musical instruments, costumes or ritual environments of the Rule of Ocha or the Abakuá Society, the blessing of a utopian "national style." Favour, luck - aché - reached few, however. And the anecdotal was not exactly the decisive factor. The sculptural works of Agustín Cárdenas or Mateo Torriente or even Lam himself exemplify this. As for Diago Querol, his real scale is yet to be studied; it must surely extend far beyond those skin-deep samples which are often used to analyse him.
IMAGE NO. 7: "Cabeza de Elegguá", 1949
To further expound on the visual references found until the end of this period, one must mention the appealing Cabezas de Elegguá, made by Diago in 1949 [20]; and the oil paintings El Oráculo, 1949 [21] and Elegguá regala los caminos (Elegguá reveals the roads), 1949 (see image no. 8), both housed in the collection of the National Museum of Fine Arts of Habana.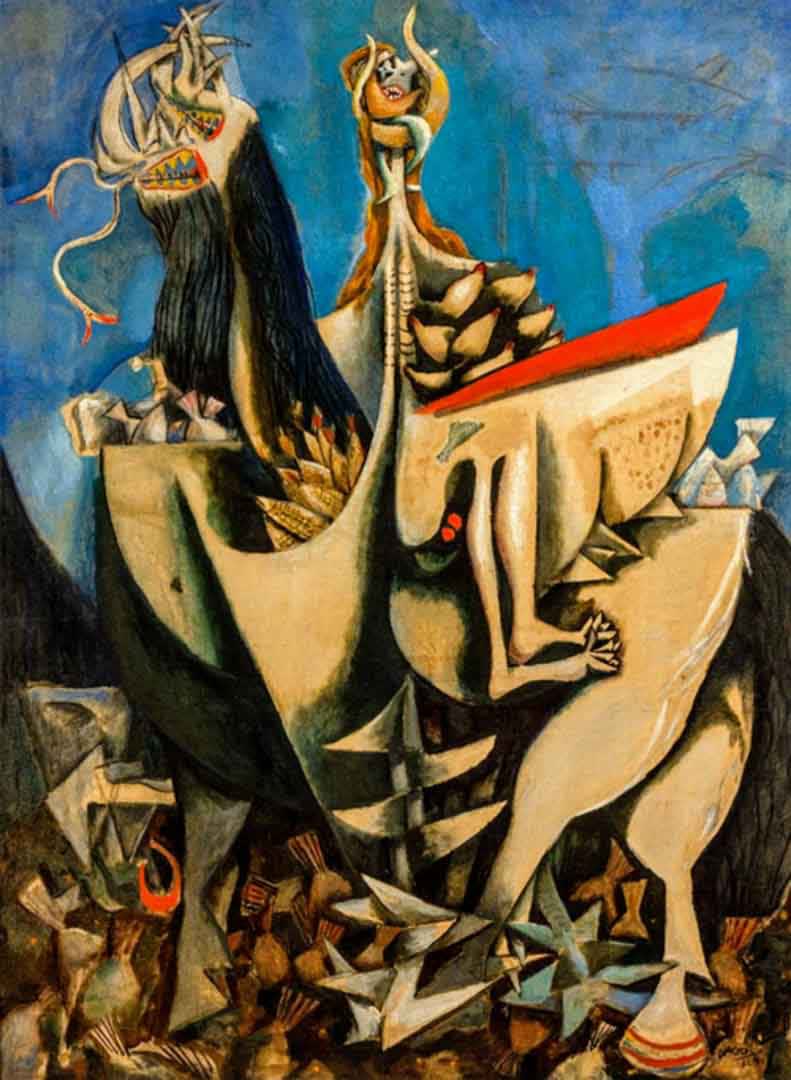 IMAGE NO. 8: "Elegguá regala los caminos", 1949
In the first of these works, the representation of this orichá is more evident nominally than visually. One cannot find elements that characterize the image of this capricious deity, known as the "owner" of roads and paths in the Yoruba pantheon. No formal, chromatic, or symbolic feature alludes us directly to him. Nor does it resemble any of the usual depictions found in Santería iconography, which we do encounter in many of Lam's works. [22] Ultimately, it doesn't matter whether or not much if it resembles these common portrayals, or if the artist tried to reproduce some other detail found in these idols, so popular in Cuban households. But we must not forget that throughout those years and until much later, the altar of the "holy warriors," with Elegguá at its front, used to be hidden discreetly within so-called "nightstands'' to prevent it being inquisitively gazed at by uninvited guests. The truth is that his Elegguá heads express with an unadulterated ease the intrinsic secrecy that generally surrounds this mysterious religion, where family ancestors (Eggun) and many other supernatural presences are of paramount importance, often represented in objects, carved figures (aworanes) and other images and symbols, sometimes associated with evil (such as Eshu himself), or even with the diabolical such as in the representation of Abita, or dark and severe deities like Orun, or with others that inhabit the depths of the Earth such as Ashikuelú, all inherent to the Ifá religion, and who were much scarcer and less known (especially during those times) to the public, as it is the case of the warriors (Elegguá, Oggún, Ochosi and Osun). We do not know if Diago Querol sympathized or was initiated in any Afro-Cuban religion, but several times he was certainly in the presence of some of these ritual objects common in the humble homes of Afro-descendant families - both in Habana and in Matanzas - and where he must have heard many sacred tales, patakines or itanes of Ifá, in which deities are described physically and are later represented by devout followers.
Diago achieves his most genuine artistic expression in this intentional detachment from the palpable and identifiable aspects of the Afro-Cuban. The ability to "approach the world through the structures of mythological thinking" or his "natural ability for mythologization," [23] turns Cabezas de Elegguá and his other similar pieces into one of the most valid solutions to Cuban art's cultural identity issues with the Caribbean and Latin America.
The aforementioned von Christierson collection houses one of those Cabezas de Elegguá, circa 1949 (see image no. 9), a colourful figure with an angry grimace on its face. It is a tempera painting on a medium-sized cardboard (76.2 x 54.6) that portrays the rhomboid-shaped head of an imaginary figure (that, due to his bearing, could be considered Elegguá as evidenced by studies made by the artist); the figure's face has small close-knit eyes and is situated at the centre of a cruciate axis and at the top of an elongated neck, covered with arrows that point in all directions, as it is characteristic of the orichá "owner" of roads and paths. The arms of the cross are crowned with criss-crossed crescents, a somewhat strange form to add to this orichá's portrayal, but one that appears in almost all of the known Cabezas de Elegguá and in other pieces where this orichá is represented, like in Elegguá regala los caminos (see image no. 7 and no. 8).

IMAGE NO. 9: "Cabeza de Elegguá", 1949, tempera on cardboard
The light and yellowish figure overlaps an abstract background made up of two red rectangles superimposed on a blue background; both rectangles are bedecked with a plethora of vertical, horizontal and diagonal lines. The piece is a very attractive component of this important, although relatively small, series (in my case, I have only been able to see about three or four Elagguá heads). The peculiarity is that in this period, and in this particular case, abstraction is used as a sort of formal background where there seems to exist - at least to my view - references to the formal and linear geometries found in the fabrics and embellished decorations distinct of sub-Saharan traditional masks and wood carvings, which Diago Querol certainly revered.
Concerning his abstraction, perhaps the most overlooked or least examined component of his visual language in comparison to other Cuban abstract painters, one would have to ask if there is any other evidence to be found, direct and circumstantial, or even imagined, of Afro-Cuban presence or African traces in his art, at least if we wish to justify the argument that we put up for debate with the only purpose of stimulating the inquiring minds of researchers.

IMAGE NO. 10: "El Oráculo", 1949
El Oráculo, 1949, housed in The National Museum of Fine Arts of Habana (see image no. 10), although it has a more pretentious composition, is besieged by cultural and stylistic references that slightly temper the imaginative freedom that is recognizable in the Cabezas de Elegguá. References to characters or fabulous entities from Western mythology, intertwined with the creation of enigmas and prophecies (Oracle of Delphi, Sphinx of Thebes, etc.), and that are implicit in the piece's title, inevitably precede any possible association to the peculiar Yoruba or Bantu prophetic traditions, since we generally tend to correlate the word "oracle" to the West, and not, unfortunately, to the much more proximate prescient system of Ifá. Such is the power of the Western historical canon. References to some of the iconographic and compositional resources used by Lam (a mixture of human, animal, vegetable and fantastic fragments) compromise a part of his originality with seeming mimetics that he does manage to avoid with ease in the Cabezas de Elegguá. Other graphic and numeric elements traced on the floor, of vague cabalistic, astrological or magical affiliation, create in El Oráculo an environment of performed mystery, scenographic, dramatic, that rarefies the fair appreciation of its values. They distance it from the clear and immediate connections it has to the Palo Monte and Abakuá scripts, that in any case would have been equally unknown to most of the audience of the time. The top of the painting brings together, in my opinion, Diago Querol's most authentic features. The three faces - all expressing a frightful ferocity - are very much a reminder of the conceptual development of the Cabezas… and they differ from those reworked by Picasso or Lam, in that they are not entirely referenced from a repertoire of black African masks, and the same could be said from the heads portrayed in Elegguá regala los caminos, 1949, also housed at The National Museum of Fine Arts of Habana. In addition to the abundant carnavalesque masquerades of Cuba at the time, and the anatomical monstrosities of surrealism, the faces of the tripled-character in El Oráculo can also be connected to an anecdotal source: a Mexican mask with sharp and pugnacious teeth - which is still conserved by the widow of Diego Querol - and that was gifted to him by his brother-in-law around 1940 [24]. Does that mask still exist, maybe owned by one of his family members or a collector? Was he inspired by that mask, or by the book Masques Africains by Charles Ratton - which he had in his library - or by some suggestive visual representation of voodoo that he witnessed on his trip to Haiti in 1947, the elements of his personal imagery? His brief time in Haiti has never been examined, but he undoubtedly could have come into contact, even in a superficial and transient way, with the intense imagery found in voodoo and in the Bizangó secret society (also known as Vlinblindingue, Zobop and San Poel), which in many ways corresponds the frenzied, terrible expressions observable in Cabezas de Elegguá, El Oráculo, and in Elegguá regala los caminos. This intense quality is not as common in Afro-Cuban religious imagery. We can only make suggestions or assumptions. To me it seems likely that, knowing Diago Querol's great intellectual curiosity, the similarities in appearance that we can see between the three heads portrayed in El Oráculo and in the Cabezas de Elegguá is interconnected with what the artist knew about the meaning of the number three in esoteric Yoruba numerology, which indeed corresponds to that orichá, who is the oracle most commonly "consulted" by practitioners, even more the orichá of divination himself, called Orula or Orúmbila, who is only hindered by matters of greater significance.

IMAGE NO. 11: "Estudio de la noche", ca. 1950, watercolour on cardboard
Regarding La Noche (The Night), 1950, we come across a work that can be considered great in many accounts, not only at a dimensional level but also because of its structural complexity, narrative, and because in this piece the artist seems to have successfully practiced and recombined several of his previous aesthetic, thematic, and stylistic discoveries with others that came before he decided to delve into abstract art. It is, without a doubt, an ambitious work, since its achievement required at least several studies or sketches before reaching its final version, which is currently housed by a private collection in Madrid (see image no. 12) [25]. Estudio de la Noche (The Study of the Night) ca. 1950 (image no. 12), a watercolour on cardboard measuring 45.7 x 207.6 cm, was recently procured by Chris von Christierson, the aforementioned South African collector and businessman. Despite its somewhat stuffy overall appearance, it is an appealing work, with a surreal and whimsical tone, divided in three big sections where intricate and severe forms are intertwined with wispy and poetic spaces, where the imaginary meets novel realistic elements such as a modern home and a new model American car, located in the lower right corner of the piece. One can sense, however, that the painting's undertone is overcome by a sense of the sacred, by a mystical and religious astonishment that comes face-to-face with darkness, an encounter with the mystery of the night. Although it might be confusing and imprecise, its aesthetic message is very clearly influenced by Afro-Cuban religion, as the religion's philosophy is derived from nature, since Orichás and mpungos, unlike Western deities or Gods, represent essentially energies of nature. Beyond that direct evidence, or that supposition or guess, tangible evidence of Afro-Cuban symbols might be observed in the closed door located on the left side of the piece. The door is decorated with a tuft of palm plumes, similar to those placed at the entrance to the secret spaces where ceremonies of fambá for the temple of the Secret Society Abakuúa or of munanso (by practitioners of Palo Monte) or in the igdobu of Ocha and Ifá, take place. The object disappeared in the final version of the painting, as we can see in the image. But the desire to use the elements of Afro-Cuban culture is evidenced in the bag-shaped space coloured with the same pale red colour used in the central left part of the piece, where several crossed arrows form a triangle, much like in the erikuá style that is commonly used in the graphic language of Abakuá Anaforuana, and also in the signatures or symbolic traces used by the Palo Monte cult of Congolese origin. In the top part, images of constellations go from being simple linear diagrams drawn between one star and the other to become rare aerial beings, winged, with an ethereal appearance, presided over by a large black bird that immediately reminds us of the Cuban turkey vulture, known as gunugún to santeros and nsusu mayimbe to paleros, that the devout consider the messenger of Olofi and Nsambi Mpungo, respectively. The manifestation of an omnipresent deity is also represented (or imagined in a synchronous and synthetic way) by a bunch of imposing whitish characters that appear at the far right and perhaps at the extreme opposite; they're not only witnesses of the night, they could possibly be the creators of that universe. But maybe we should not get ahead of ourselves because - as it's usually the case with artistic expressions - these were perhaps unintentional decisions, products of intuition and not reason. At the core of Estudio de la Noche, as a halfway point between these two extremes, there is a sort of grand fallen star, half-buried, that seems to represent, judging by its shape, what will be his new abstract style, an outcome with less narrative but equally provocative. In the final version of the artwork, this figure is even more schematic and abstract, and it no longer resembles a fallen star, as we just suggested. The figurative gradually loses its predominance. If a piece like this arouses a thought, it is the grand possibility that Diago Querol can create images that are not only suggestive, allusive, but also radically abstract, to represent or imply those Afro-Cuban elements that we so wish to encounter in the works of artists such as Lam and Diago, and that mimetic, narrative, descriptive figurations end up many times being doll-like, carnivalesque, and touristy puppetry. La Noche and its respective Estudio overcome these limitations and become pieces that need no more credentials than their authenticity and beauty.

IMAGE NO. 12: "La noche", 1950, oil on wood
In regard to Diago Querol's abstractions - abstractions that are never that abstract, really - it will be enough to consider one small, evocative drawing from the von Christierson collection, where one can easily find references to the figures, masks, and linear embellishments distinctive of African textiles and wood carvings (see image no. 13). I think that Cuban abstraction, despite having been successful in some instances, never sufficiently immersed itself in the meanings of the various graphic, geometric, chromatic, and numeric symbols belonging to the different religious traditions of African descent (maybe with the exception of the unjustly forgotten Viredo Espinosa, who used traits from all of them), something that would have perhaps been an important ingredient to distinguish it from other schools of abstraction that developed with a certain monotonous parallelism in several Latin American countries and the rest of the world.
Thousands of loose ends will have to be tied up - and untied - to understand this complex painter. What symbolic universe could be hidden in his works, given Diago Querol's intellect and well-known appetite for knowledge? To what extent can we really find African, African American, Caribbean, Cuban, and even unprecedented Indo-Antillean and Taíno elements in his work, as an interesting and informed essay by Cuban researcher José Ramón Alonso-Lorea recently proposed? [26] How important is music in the conception and evolution of his style, even in his final commitment to abstract painting? An ignominious question mark still looks over Diago's archived case. Only further study can transform it into an exclamation point.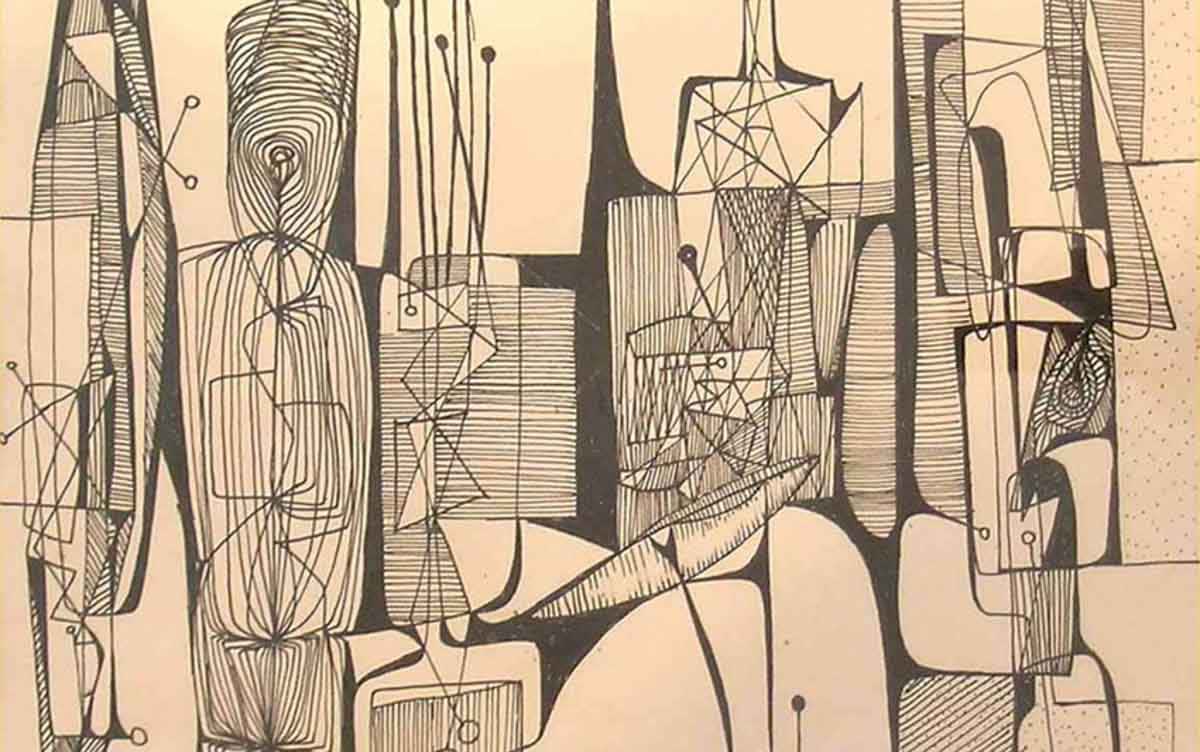 13. Sin título, Roberto Diago Querol, ca. 1950, tinta sobre papel
Habana, 1989-2020
---
*This text was originally published in 1980 in the general catalogue of the third edition of the Bienal de La Habana. Wilfredo Lam Center, Letras Cubanas Publishing House, Habana, November 1989, pg. 222-226, and in the Roberto Diago exhibition catalogue, Roberto Diago Art Store, FCBC, La Habana, November 5, 1989. This edition was reviewed in September 2020 as a way to commemorate the centenary of the birth of this important artist, with some brief changes to the original edition that consider new information and observations on his work.
---
Notes:
[1] I'm thankful to Diago's widow, Josefina Urfé, her son Virgilio, her grandson Roberto Diago, and to Art History student Niurka Cruz, for access to an important group of works and for reviewing the photo archive, catalogs and press clippings of the artist.
[2] Gerardo Mosquera: "África dentro de la plástica caribeña," International Conference About Visual Arts in the Caribbean, II Bienal de la Habana, 1989.
[3] Joaquín Texidor "Nuestros pintores de hoy: Diago," October 1946, clipping, archive of Roberto Diago's widow.
[4] Loló de la Torriente: "Valor de la pintura negra," El Nacional, June 1947.
[5] See letter from Alfred H. Barr Jr. addressed to Diago on August 1, 1947, offering to purchase the ink drawing Cabezas, 1946, for 50 pesos, and paycheck no. 639, July 28, 1947, archived by Roberto Diago's widow.
[6] Maternidad, oil / canvas, 116 x 90 cm, National Museum of Fine Arts collection, in storage, inv. 0-183.
[7] The von Christierson collection has organized, as of now, three exhibitions with the name Without Masks: Contemporary Afro-Cuban Art / Sin Máscaras: Arte Afrocubano Contemporáneo, Johannesburg Art Gallery, South Africa, 2010 (catalogue); Museum of Anthropology, University of British Columbia, Vancouver, Canada, 2014; and National Museum of Fine Arts, Habana, Cuba, 2017. The author of this text is the curator of the von Christierson collection, of his exhibitions, and the writer of texts in the exhibition catalogue.
[8] Cf. Alejandro de la Fuente: Grupo Antillano: The Art of Afro-Cuba, University of Pittsburgh Press, 2013.
[9] See the so-called Pentalogía de Martí, oils from 1943, Centro de Estudios Martianos collection, or Retrato del Sr. Guillermo Paredes, 1942, oil / canvas, 66 x 56 cm, National Museum of Fine Arts collection, inv. 0-184.
[10] Caridad de Cobre, 1946, oil / canvas, 104 x 78 cm, Josefina Urfé collection.
[11] See Carlos Enríquez, Virgen del Cobre, ca. 1933, oil / canvas, 72 x 59,5 cm, and Rene Portocarrero, Bambé, 1947, pastel / paper, 51 x 34 cm, both in the National Museum of Fine Arts collection, Cuban Rooms.
[12] I am referring to pieces from the Diago exhibition. Variaciones sobre imágenes conocidas, Lyceum, Habana, October 13-24, 1948, for example Apocalipsis, San Sebastián and Caridad del Cobre, printed in Lunes de Revolución, Habana, no. 97, February 27, 1961, pg. 11 and 15.
[13] Abanico, oil / canvas, 150 x 89 cm, National Museum of Fine Arts collection, Cuban Rooms, inv. 2420.
[14] The engraver and Diago's friend Armando Posse mentioned in a personal conversation that Diago made excellent "head" woodcuts. The Matanzas sculptor José Núñez Booth, director and the artist's classmate in the Matanzas School of Visual Arts since 1946, also mentioned in a personal conversation that he remembers a series of dagames by thread with motifs inspired by the novel Los trabajadores del mar, by Victor Hugo. There is another reference to the existence of Diago's etchings in a piece by José Gómez Sicre: "Un movimiento en marcha," El Mundo, Habana, July 7 1945, that mentions three woodcuts exhibited by Diago in the Glorier Club of New York that very same year. We have not found any of these pieces.
[15] Roberto Diago Querol was the son of the talented violinist Virgilio Diago (1904 - 1941), violin concertmaster of the Symphony Orchestra of Habana, and one of the most notable players of this instrument in Cuba. In 1949, Roberto Diago marries Josefine Urfé, the daughter of the celebrated musician José Urfé (1897-1957), clarinetist, teacher and director of the orchestra and the band, compositor, among other pieces, of the well-known danzón "El bombín de Barreto." For more information about these musicians, cf. Helio Orovio, Diccionario de la música cubana, Letras Cubanas Publishing House, Habana, 1981, pg. 124 and 416 - 417.
[16] Cf. José Lezama Lima: "En una exposición de Roberto Diago," Tratados de La Habana, Central University of Las Villas, 1958, pg. 361 - 367.
[17] Músicos, ca. 1947, oil / canvas / cardboard, 188 x 209 cm, National Museum of Fine Arts collection, in storage, inv. 85 / 7.
[18] See, for example, Three Musicians, 1921, by Pablo Picasso (Philadelphia Museum of Art collection).
[19] See, for example, the exhibition 5 grandes pintores: Picasso, Matisse, Miró, Lam, Matta, Museum of Modern Art, 1946. Cf. Antonio Núñez Jiménez: Wilfredo Lam, Letras Cubanas Publishing House, Habana, 1982, pg. 268.
[20] At least three pieces of this series are made of gouache on paper: two kept by Diago's widow, and one, not yet located, that was once owned by the popular musician Ignacio Villa (Bola de Nieve). A recent serigraphy of one of these pieces is housed by the Cuban Fund of Cultural Assets.
[21] El Oráculo, 1949, oil / canvas, 150 x 89 cm, National Museum of Fine Arts collection, Cuban room, inv. 2419.
[22] Cf. Desiderio Navarro: "Lam y Guillén: mundos comunicantes," in Sobre Wilfredo Lam, Letras Cubanas Publishing House, Habana, 1986, pg. 138 - 162.
[23] Gerardo Mosquera, op. cit, pg. 13.
[24] I could see the aforementioned mask in Josefina's house at the end of the eighties, although I regret not remembering its exact appearance and, of course, not having a camera to photograph it.
[25] I'm thankful to Roberto Borlenghi, Janda Wetherington and to the Panamerican Art Project, Miami, Florida, for having provided me the image and the references to the final version of La Noche. The works by Diago Querol currently housed in the von Christierson collection that are shown in this article (images no. 2, no. 10, no. 12, and 14) were purchased from that gallery.
[26] Cf. José Ramón Alonso-Lorea: "Diago en los proyectos de Sicre, Barr y sus derivaciones," Deinós, Department of Languages, Literatures, and Cultures of Rockford University, August 12 2020.
March 1, 2021